RESIN JEWELLERY
Resin is strong and durable, yet should be treated as a ceramic as it can break if dropped or knocked against a hard surface. To restore sheen to your jewellery, simply apply moisturiser. To keep your polished resin jewellery in great condition, simply wipe with a clean, dry cloth. Like many materials, certain colours in resin may change over time, due to the conditions they are exposed to. We do not consider this to be a flaw in the product, merely a characteristic of the product as it ages, giving your piece an individual patina. To prolong the original colours, keep away from sunlight.
PRECIOUS METALS
Sterling silver, brass and gold are naturally soft metals and should be treated with special care to avoid damage. Avoid exposure to perfumes, oils and household chemicals. If tarnishing occurs wipe with a jewellery cleaning cloth or clean with a suitable cleaning agent.
 PLATED JEWELLERY
To restore shine to plated jewellery use a clean soft cloth (such as a clean micro-fibre cloth). Plated jewellery can be cleaned with a damp cloth and mild detergent dissolved in hot water. Do not use caustic cleaning materials (such as "Brasso") as this may damage the plating. Keep away from hard surfaces as bumps and scratches will cause wear to the plating. To extend the life of your plated jewellery we recommend keeping in a soft pouch or jewellery box, out of direct sunlight and heat.
METAL CHAIN
Some of our pieces use fine metal chain. Despite the quality of this chain, like all chains of this nature, the very delicacy that holds its appeal requires that it be treated with care. It can break if pulled or knocked and can become entangled if not stored properly. Dinosaur Designs is not responsible for damage caused to pieces through general wear and tear.
HINGED BANGLES
Some of our resin bangles use a metal hinge. While this hinge is strong and durable, it can sprain if over extended and lose some of its tension. Dinosaur Designs is not responsible for damage caused to pieces through general wear and tear. 
LEATHER CORD
Our leather cord is a high quality leather. As with all natural leather products care should be taken, as it is possible that in some cases dye may transfer on to lighter coloured clothes when wearing. Dinosaur Designs is not responsible for damage caused to clothing in such instances and will not replace cord free of charge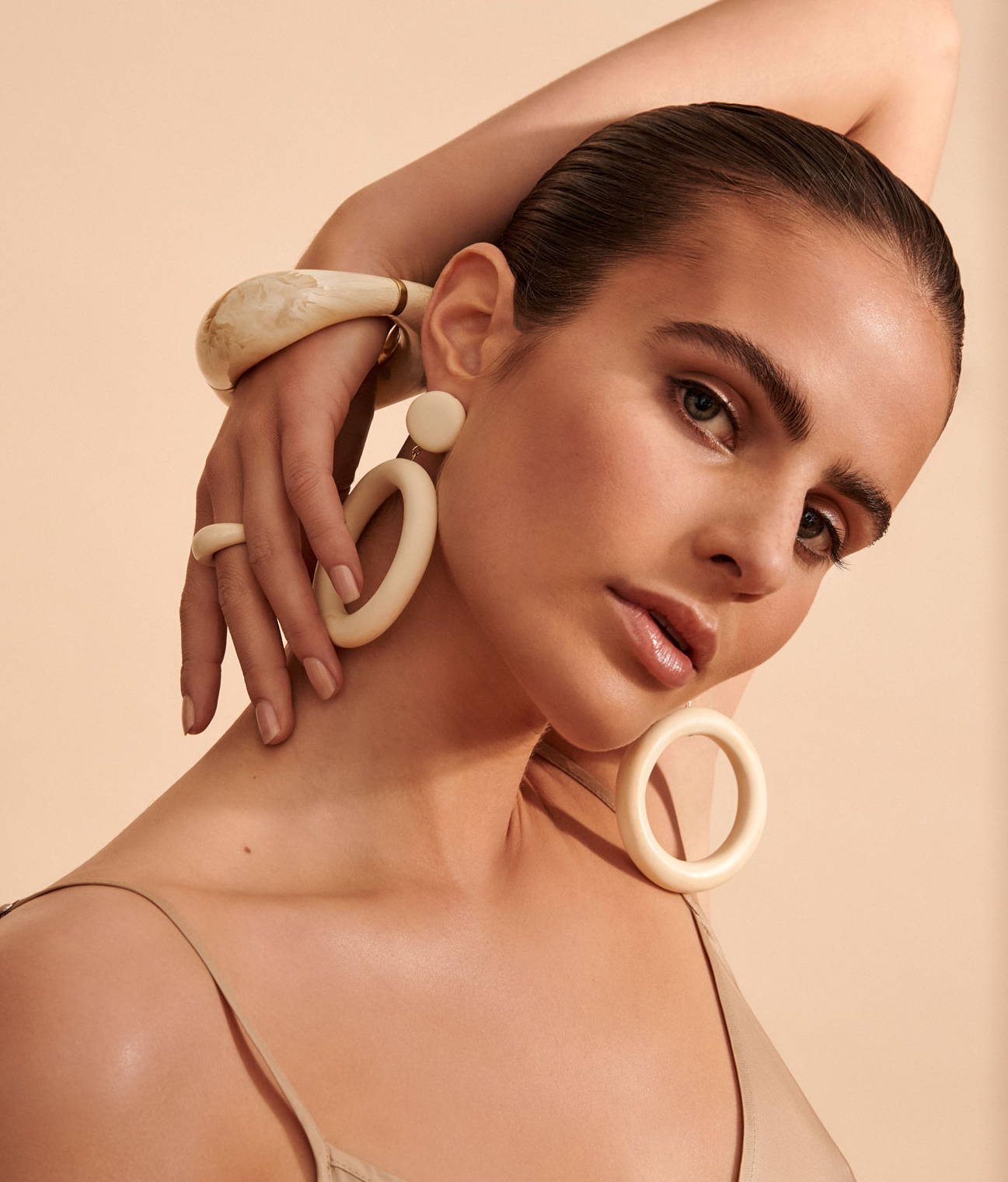 ---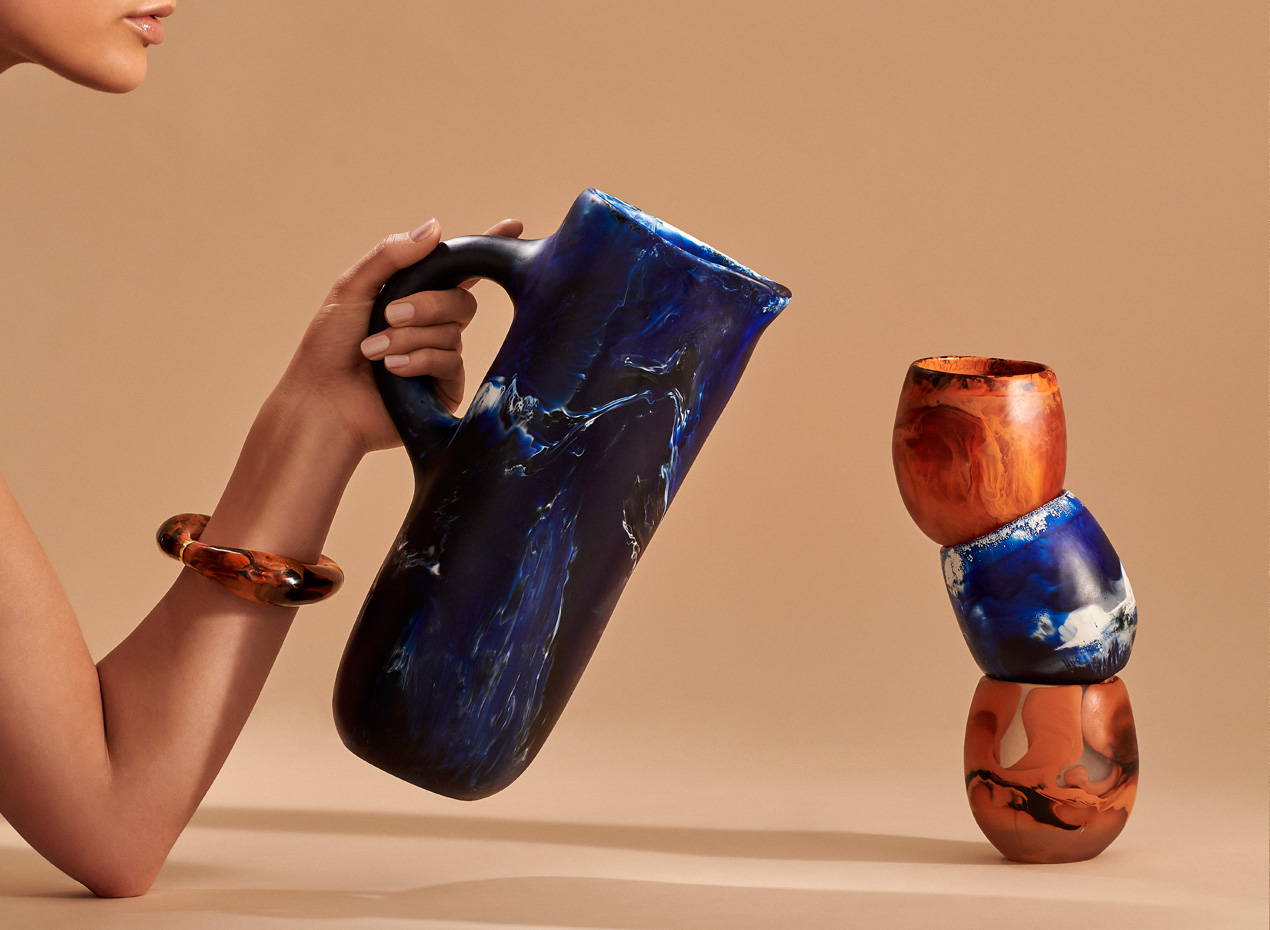 RESIN HOMEWARES
Dinosaur Designs homewares are suitable for cold food presentation only. These products should be hand washed in warm water. Resin may appear "frosted" after washing and should be rubbed with a drop of cooking oil to restore sheen. All resin items are strong and durable but should be treated like a ceramic as they can break if dropped or knocked against a hard surface. Resin is not fire resistant and so should not be used in an oven, a microwave, dishwasher or as an ashtray.
METAL HOMEWARES
Dinosaur Designs metal homewares are not suitable for food service. Wipe only with a soft cloth, do not put in the dishwasher. If hand washing, dry well immediately. Products have been coated with a film to prevent tarnishing in the short term. Polishing with Brasso will remove this film. Handle with care. Brass is a soft metal, which may be scratched or dented.
HAND-BLOWN GLASS
Glass vases are fragile. Please handle with care. When filling the vases with water hold at the base and fill slowly. From time to time, the surface of sand blasted vases may appear frosted. To restore sheen simply rub with moisturiser. Shiny glass vases should be cleaned with a good quality glass cleaner.
PORCELAIN HOMEWARES
Dinosaur Designs porcelain homewares can, with some care, be safely used in the oven, microwave and dishwasher and are suitable for cold and warm food presentation. A sudden change in temperature, such as from freezer to oven, is likely to cause thermal shock, which will damage your porcelain. Porcelain should be washed in warm water or in a dishwasher at a medium temperature.